Health and Wellness Solutions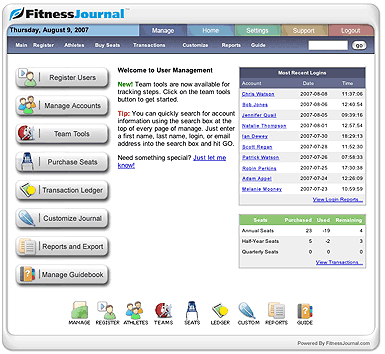 Overview:
Fitness Journal offers a suite of online integration tools for health and wellness programs, health facilities, personal trainers, coaches, schools and clubs. Our tools allow you to easily manage large numbers of clients, run group reports, offer fitness challenges and reach a new level of health and fitness accountability for your users.
Fitness Journal is accounting software for the body. Our web based service, launched in 2004, helps clients around the globe keep track of their fitness and nutrition while maintaining motivation to reach their long term health goals. Our management suite combines the success of individual journaling with the power and motivation of group accountability, reporting, and challenges.
While your clients can manage their journals on an individual level, management tools provide a high level overview of your group health and fitness. Coaches and personal trainers can view detail summaries of individual workout logs and provide planned exercises, guidance, and assistance on a personal level, even from thousands of miles away.
Our Clients
We work with clients of all shapes and sizes. We can build custom health and wellness challenge and incentive programs for companies ranging in size from a handful of employees, all the way up to tens of thousands of participants. Please contact us to setup a demo of Fitness Journal. 603-784-5696

Demonstration:
Sign up for a demo account that includes five free demo seats. Contact us using our health and wellness contact form to receive a demo registration code or by contacting your Fitness Journal representative.

Contact:
Christopher Watson
chris@fitnessjournal.com
(707) 933-1436