Your Success Starts Here...
Click on any icon above to learn more about each section of Fitness Journal.
---
FitnessJournal is designed to provide a simple, painless method of tracking your exercises, workouts, diet, and weight loss. Fitness Journal is easy to learn and takes minutes a day to maintain.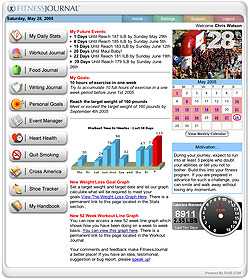 It can be difficult to stay on track with any diet or workout plan. Fitness Journal empowers you with a new level of clarity and personal understanding that will make it possible to successfully see your goals through to completion, no matter how large and impossible they may at first appear.
Your fitness journal is a series of easy to use, web based utilities that work in harmony to provide a better understanding of your past, present, and future.
Since everyone has a different way of doing things, there is no strict guideline regarding which tools you must use, how often you update, or how much information you need to include. This is your journal and you are free to use it in the way that best suits your lifestyle.
Tracking your personal progress on a daily basis - setting long-term goals and following through is an incredibly rewarding experience. It takes determination and endurance to finish what you start. Including Fitness Journal into your plan will make it easy to see your own progress on a daily basis.
Personal Accounting Applied to Health and Fitness
Accounting has been a part of running a strong business for hundreds of years. It is important to keep track of your inventory, staff, debt, and balances.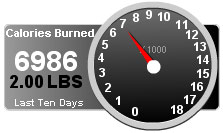 More recently, personal accounting software has become a part of every day life. The benefits of tracking and planning your finances with charts and graphs, running reports and detailed analysis beats out a simple checkbook or simple guessing any day of the week. Personal accounting software empowers the end user, allowing vision and ideas where before there was only data.
Personal accounting has become so popular that we now crave this type of clarity and vision beyond our financial lives.
If charting and graphing finances allows me an enhanced vision of my finances, why canít I apply the same types of reports to other areas of my life, such as my health?
fitnessjournal.com allows you to see track your health and fitness, the same way you might track your finances or bank account. The simple act of recording and reviewing your personal health statistics can make a dramatic difference on your perception of yourself and your future.
The Fitness Secret: Staying In Touch With Your Goals
Setting goals is easy. Anyone can sit down and make a list of what they wish to accomplish in the short and long term. It is much harder to see your initial goals through to completion. Why do so many people set goals yet fail to achieve the results they expected?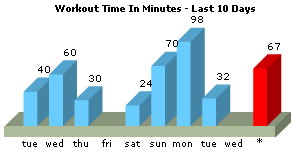 The key to successful goal implementation is to keep your initial desires and motivations fresh in your mind. By reviewing your progress each and every day, your goals become more than just wishful thinking and become engrained into your mind. Daily reflection, as if by magic, turns dreams into reality. You will become what you think about most.
You are capable of achieving goals beyond anything you can even imagine. All it takes is the desire to try and the persistence to keep trying until you finally succeed. Fitness Journal is designed to help you succeed. We believe that success should be recorded.