People are creatures of habit
One hot August day I found myself in the company of rancher, on a huge ranch in northern California. We were trying to track down a herd of cattle that were roaming freely over the acreage. We drove his international scout over narrow track cut through the hilly terrain.

"How do you know where the cattle are?" I asked, as it seemed they could be anywhere in the vast expanse.

"Cattle are creatures of habit. They tend to do the same thing, the same way every day without giving much thought to it... people are the same way too."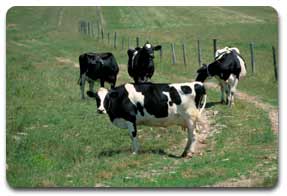 It was a very simple observation, but it was very true. Just over the next hill we found the cattle, just where the rancher knew they would be at this time of day. His comment has stayed with me over the years.
People become frustrated when they can't quit smoking, or can't lose weight.. as if they are doing something wrong. Its much easier to continue down the same path than it is to make a change. Stop being so hard on yourself, its human nature!
Can you imagine if you had to think about every little thing that you did every day? I don't know about you, but I would go nuts. We have so many habitual processes, that we NEVER think about. Trying to think about what it is that we do, step by step, is an overwhelming and uncomfortable process.
If you don't like a habit that you currently have, know this: While it will be an uncomfortable process to change the habit, once you have made a change for good, it too will become a habit – something you will tend to do the same way, every day, without giving much thought to it. That new habit could be a change in diet, a change in exercising, or something as simple as an outlook on life.