Fitness Journal - The Secret To Fitness Motivation
We all have the best of intentions when it comes to our health and fitness. We KNOW that we can be in better shape. We all want to be happy and healthy!

Yet even with all the positive energy and high expectations, as soon as the stress of daily life is turned on high, one of the first things to go out the window will be our own health and fitness.
We become what we think about most.

– Brian Tracy

Since we all have the internal desire to succeed when it comes to health, the key to following through with your health goals is to keep your fitness in the front of your mind no matter how crazy life can become.
Think fitness, become fit.
One of the easiest and most effective ways I have found to stay the course is to keep a daily fitness journal. Write down your workouts, your goals, and your diet.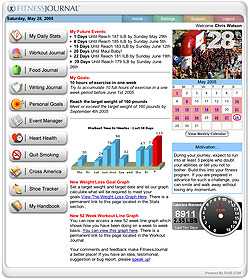 The simple act of writing down your exercise goals will keep your health and fitness plans in the forefront of your daily life.
I love exercise. I love being outdoors. The problem is, it can be so hard to find the time to actually get out there. Who has the time to work out on a regular basis? The fact is that nobody has extra time lying around. You must MAKE TIME to take your health seriously.
For me, tracking exercise started as a hobby. I'd go for a run, or a swim, or a bike, and instead of just calling it a day, I'd take some time and write it down in my own journal. I'd write down my miles, my time, how I was feeling, and any great thoughts I had during my workout (I always have the greatest ideas while I'm out on the road).
I find that writing down my workouts not only increases my own clarity and focus, but it also pumps me up me to get out there tomorrow.
When you keep a written journal, not only do you gain motivation, but more important, you also gain MOMENTUM. Once you are going, it is easy to keep going.
RES FIRMA MITESCERE NESCIT
"Once you got it up, keep it up"
- American Flyers

Keeping my fitness journal is a rewarding part of my own exercise routine. I look forward to entering my daily workouts and find that I will actually stay out longer and do that extra mile on the road, or extra lap in the pool JUST so I could record it in my journal.

When I started recording my workouts, two things happened. First, my fitness level started to noticeably increase. Second, my own understanding about my fitness level changed dramatically. I could actually see how my training cycles affected my performance.

As a web geek, my interest in fitness, and in workout journals naturally progressed into a website devoted entirely to tracking fitness. I launched a site called fitnessjournal.com on May 1st 2004 at the Wildflower Triathlon.

The original online journal was designed to make it easy to track swimming, cycling, and running for triathlon training. My expectations were that the only people who would use, or benefit from such a site would be ultra techie tri geeks. Boy was I wrong!

Within just a few short weeks of launching the site, I was hearing from athletes all over the country. I received requests to add sports I had never even heard of, let alone considered tracking. I did my best to include as many customized activities as I could.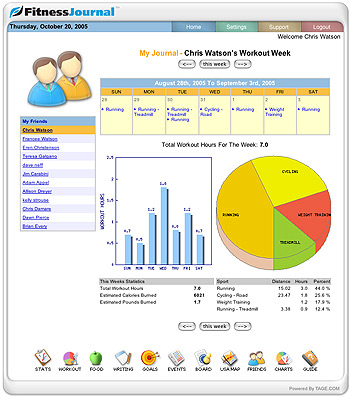 Even more shocking, not only was I seeing ultra athletes, but also every day people who were interested in increasing their own fitness level and thought that fitnessjournal.com was a really great idea.
I received requests for new activities, but I was also inundated with messages for new features. Emails that started… "This feature is great, but it would be even BETTER if it did this…" became commonplace. With each new feature, the online journal became a more motivating place, and I was very happy to customize the journal for individual athletes.
Every tool and utility at fitness journal started as request from an existing member. Instead of building a feature in the hopes someone would use it, Fitness Journal is an evolution of real people tracking real stuff. Everything is designed to be easy to use, simple to learn, and actually useful.
Examples of some of our motivating features include:
Charts & Graphs – Review your data by the week, month, or year. Graph your exercise hours, miles, and calories burned

Walk Across America - automatically keeps track of your miles and plots a course across a USA map.

Shoe Tracker - lets you keep track of the miles on all your running shoes, and reminds you when they need to be replaced!

Email Reminders - keep your workout plan fresh in your mind, even on your day off!

Discussion Board – find other people who are training for the same event as you. Speak to other members who have the same weight loss goals that you have. You can find motivation everywhere you look.

Friends Section - One of my favorite features would be the Friends section. You can now train with friends or family members across town or on the other side of the country. You can share your own data so you can see who is working hard, and who is slacking. You can also send messages to your friends through the site.
Talk about motivation. You don't know motivation until you receive your first taunting email from your buddy that says "Only one hour this week. You must be slacking". Ouch! Game On!

Sharing your workout data shines a whole new light on your health and fitness. Suddenly, working out can be a group activity.
There is also something incredibly rewarding about recording a solid workout week, and having your friends notice. "Hey, outstanding job this week, you rock". Such simple words, but how great it feels to know that someone else is watching.
I could spend hours explaining all of the great stuff the fitnessjournal.com has to offer, however I don't want to waste your valuable time. Instead, I would like to invite you to experience fitnessjournal.com first hand.
I use my own fitness journal every day, and there are now thousands of people all over the United States and around the world who consider their journals an essential part of their workout routine. Become a member today and see how much it improves your own fitness over the next three months.
To get started, simply click on the "join" button below.
I wish you the greatest success with your health and fitness. I look forward to talking to you online. Remember:
Success Should Be Recorded!
Sincerely,
Christopher Watson
Owner, Founder, Athlete, Web Geek
fitnessjournal.com
Sonoma, CA