Fitness Journal Team Support Vehicle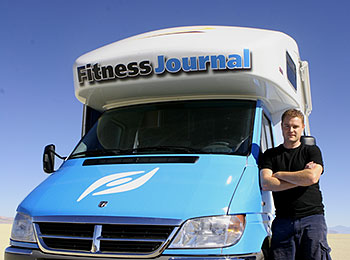 You bought a WHAT?
If you told me two years ago that I would be driving a Winnebago I would have laughed out loud at the mere suggestion. I consider myself to be the outdoorsy type. I like to sleep in a bivvy sack under the open sky after a day of hiking and rock climbing. I prefer a bike ride in the rain or a surf session in the frigid waters of northern CA to being stuck indoors.
When Fitness Journal went in search of a support vehicle, it was obvious that a small car with a broken stereo was no longer going to cut it. So it is with my own surprise and amusement that Iím proud to introduce the Fitness Journal Team Support Vehicle. A custom designed Winnebago View.
There is nothing like a good road trip to get the gears turning and the creative juices flowing. For years Iíve crisscrossed this great country in vehicles of all shapes and sizes for the sake of adventure and travel.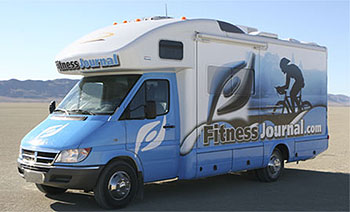 How it started...
To me a road trip is defined as small tightly packed car, sleeping in the back seat, warm soda, cold pizza, good friends, and great music. The challenge of a road trip is to get from point A to point B as quickly and efficiently as possible. There is a pride in sacrificing comfort for the sake of raw travel speed. The adventure was in the travel and not in the destination.
I started by sticking my thumb in the air and hitch hiking around the United States and Canada. Three cross-country trips, tens of thousands of miles, and hundreds of rides later, I was hooked on the road trip.
Moving to Alaska introduced me to the Northern Lights and the Al-Can highway. I fell in love with the solitude and remoteness on a road that never seems to end; I have made frequent trips on the road that links Alaska to the lower 48.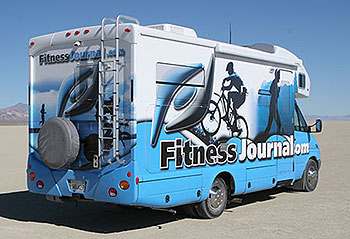 Times have changed...
In stark contrast to the road trips of my past, The FJ Support Vehicle offers an alternative to cramped cars and days without showers. The RV provides enough room to comfortably carry multiple people, expo gear, remote operations, cameras and supplies. Utilizing mobile Internet services, Fitness Journal also acts as a mobile operations center providing site management and support on the go.
Meet your training buddies
The team vehicle offers a great location for existing Fitness Journal members to meet up in person. Many Fitness Journal members track each otherís training progress for upcoming events without ever meeting face to face. We will also use the RV to spread the word of Fitness Journal to future members!
During the upcoming season, look for the Fitness Journal vehicle at some of the largest events in the country. Check back here for a tour calendar.
Flag us down!
I look forward to meeting many of you in person during the upcoming season. If you happen to see the Fitness Journal Support Vehicle out on the road or at an event, make sure to wave, honk, flag us down and say hello.
Written by Chris Watson, Founder of FitnessJournal.
Credits:
I would like to send my sincere thanks and recommendation to two companies who made the custom design possible:
Ads on Wheels in Merrimack NH were able to take my initial designs and evolve it into a finished design and they should be very proud of their work. They were timely with their process, stayed in constant communication and provided a very professional local installer
Decal Applicators LLC, located in Pleasanton CA did an incredible job of installing the wrap. They spent the extra time necessary to bring a complicated installation to a successful conclusion on schedule, the first time. I would recommend both of these companies without any hesitation. Job well done!
I would also like to send my sincere thanks to the small focus group comprised of Fitness Journal members who provided constant feedback during the design process. Your assistance has been priceless. Thank you!