Health & Wellness Management Tools Tour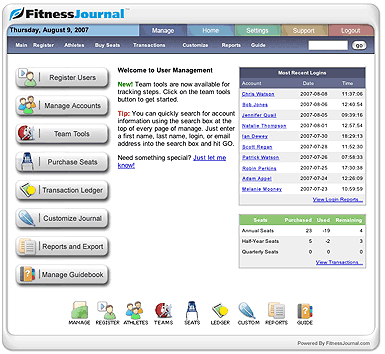 Any standard fitness journal account can be converted into a management account. As an account manager, you will have access to a new management section right from within your current fitness journal.

Your management area provides access to a set of easy to use tools designed to help you setup, register, and track multiple accounts. Bulk seats can be purchased right from your management area. Seats can be used for account registration and account renewal.

Management only accounts are also available. Management only accounts are not integrated into a existing fitness journal and are used for account management only.

Register Users
We offer several different methods of user registration at Fitness Journal.
You may choose to register users through your online management toolbox.
Users can self register using a custom registration code and our external registration gateway
Custom branded registration gateways are available
Manage User Accounts
Once a user has registered with our system, they will automatically display in your management toolbox. From the manage accounts section you can:
Manage existing users
Renew existing accounts
Change password information
View weekly workout summaries
Run activity reports
Plan future workouts
Communicate with your users through site messaging
Team Tools
The team tools option available from within management make setting up company fitness challenges a snap. You can create as many teams names as you like and then assign a user account to a particular team. Once you have your teams established, you can run step, calorie, distance or time reports for any given date range.
All reports provide up-to-the-minute standings for all teams including team rankings and virtual distance maps for the United States, Canada, and Australia!
Purchasing New Seats
Seats can be purchased online through your management toolbox using Visa, MasterCard, Amex, or Discover Card. Purchases can also be made by check, money order, or PO by contacting our office (707) 933-1436.
Transaction Ledger
All of your transactions including seat registrations both internal and external, renewals, or account adjustments are available for your review at any time via your transaction ledger.
Customize Journal
In addition to offering custom branded headers and registration, you can also offer a custom welcome message to your users, custom login right from your intranet, and logout to the URL of your choice.
Reports and Export
We provide access to the most often requested reports. We also create custom report options if your insurance or internal departments wish to see a custom report. The standard report options include:
Account login report
Activities History report
Workout Summary Report
Steps to Miles Date Range Report
Standings Report for all users
Steps Report & Distance Conversion for all users
Management Guidebook
All documentation for using your management toolbox are available at any time through the management guidebook. This searchable reference is updated on a regular basis with the most common questions and answers.