Tools for Personal Trainers and Coaches
Fitness Journal offers management tools that will help you manage your clients. Our management toolbox provides you with easy interaction with your clients and overview of their personal fitness journals.

From just a handful of clients, to hundreds, Fitness Journal can help you manage your customers with increased visibility.

Provide each of your clients with their own fitness journal account. They will login and use their journal on a daily basis to record workouts, nutritional information, events, etc. Gain a better understanding of how they eat and exercise between personal training sessions.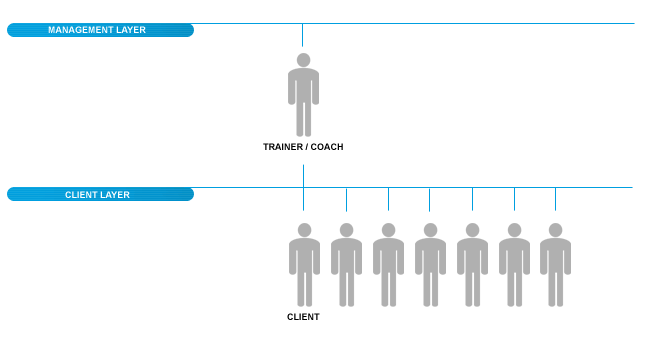 Review and comment on their workout entries. Provide feedback and plan future workouts for your clients. It is easy to stay in direct communication with your customers, even if they are on the road.

Communicate using site messaging. Send comments right through to your client journals. Provide a daily welcome message and announcements to all your customers each time they log in.

Your management toolbox will place all your clients within easy reach. View weekly overviews, run reports, plan workouts and send messages with ease.

Do you have an existing website? Its easy to customize Fitness Journal to include your own branding. You can even brand our mobile platform with your own logo.
How Management Seats Work
As a personal trainer, you can purchase bulk seats directly through your management area at a significantly reduced rate. Click on prices for direct access to our seat packages. Seats will be credited to your account and are available at any time for new registrations or renewals. Inactive seats never expire.

As you start business with a new client, you register a new account using the registration tool. Your new account will be assigned to your management area and your registration will be deducted from your available seat balance.

Since not all training programs last the same amount of time, we offer four different seat types to choose from. You can purchase full year seats (365 days), half-year seats (180 days), quarter-year seats (90 days) and monthly seats (30 days).

You can purchase the seat length that works best for your program. You can even mix and match your seat types. As an example, you may decide to keep a block of annual seats for some clients and staff, while offering quarterly seats for other clients.

When an account reaches the end of its allocated days, it will expire on its own. You may choose to renew any account in management at any time. You may also bulk renew accounts using our bulk renewal tool.

You can purchase blocks of seats at any time right through your management journal. The more seats your purchase at once, the better your bulk discount.
A Suite of Tools at your Fingertips
Your management account provides you with access to a wealth of tools and reporting features. Run reports on individuals or on your client base as a whole. See which clients are utilizing the fitness journal system the most. Here are just a few of the features included in every free management account:
Account Registration Tool
Renewal and Bulk Renewal Tools
Client Management
Client Messaging
Client Reporting
Workout Planner
Team Tools
Team Reports
Online seat purchases with instant access
Global Event Manager
Custom Branding
Welcome Message
Discussion Board
Login Reporting
Activities History Reporting
Date Range Reports
Standings Reports for your clients
Build Motivation through Team Challenges
Let your clients work together in teams using our team challenge tools. How many miles can each team travel? How many calories can your teams burn? You set the start and end dates, your clients will see their progress on their own standings board.
Multiple Trainer Accounts
If you have multiple trainers on staff, you can provide each trainer with their own fitness journal account. You can activate management with administrator options on each account, allowing your trainers to interact with your clients, register users, etc.
Signup For a Free Management Account Today
You can get started with your own fitness journal management account today. We will even include five seats so you can try out the system before making a purchase. There is no obligation to buy our services and this is an unrestricted management account. You can see first hand if Fitness Journal is the right solution for you and your clients. You can sign up for Fitness Journal Management Account online now.