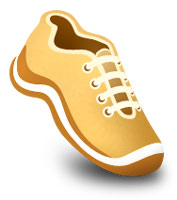 Track Your Shoes at Fitness Journal
---
Keep track of your running or walking shoes automatically at Fitness Journal. Shoes are the only thing between you and the hard ground. Its important to make sure your shoes are in good condition and are replaced in a timely manner. Holding onto running shoes too long can lead to foot problems and possible injury.

To use the shoe tracker, simply select shoe tracker and create a record of your current running shoes. You can choose how often your shoes should be replaced, in both time, and distance. If you want to replace your shoes after 300 miles, you can select 300 as your shoe retirement.

As part of your workout, a new drop down menu will appear that asks which shoes you were wearing for your workout. There is no limit to the number of shoes you can track at once, so you can list each and every pair you use.

Your journal keeps a running total for the number of miles on each pair of shoes you listed, and will notify you when the retirement date you set has been reached, or you have met the maximum miles for a pair of shoes.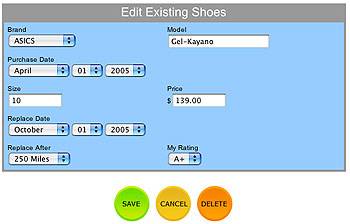 "FitnessJournal provides you with an easy location to log your miles and track your progress. It is motivating to see the miles add up and visually track your progress with the USA Map. The shoe tracker was especially helpful, as right at 300 miles (as predicted), I started to experience knee pain. Without the shoe tracker to know that my shoes needed replacing, I may not have diagnosed it so quickly. When I replaced my shoes, the pain magically went away." - Tom C., Charlotte, NC
Like many of the features of Fitness Journal, the beauty is in the simplicity. You only need to select which shoes you used for a particular workout, and Fitness Journal does the rest of the work for you. We invite you to keep track of your running or walking shoes at Fitness Journal. Sign up right now and lets get started with your very own personal fitness journal.