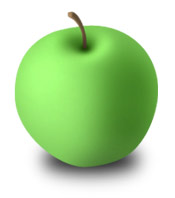 A Tour of Your Food Journal
---
Fitness Journal offers two different food journal options to help meet the tracking requirements of more people.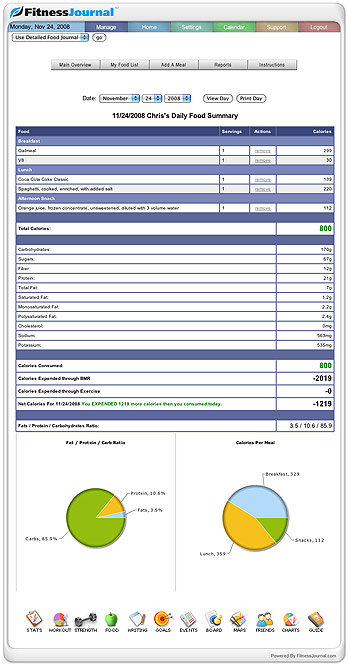 Simple Food Journal
If you want a simple, straight forward tracking solution, Fitness Journal offers basic food journal space designed to keep track of what you eat and estimate your own calories and rate your own meals. This solution is perfect if you are interested in casually tracking what you are eating but are not as concerned about the exact nutritional details.
Detailed Food Journal
If you are interested in keeping automated and detailed records of your calories, carbs, fats, etc, our detailed food journal is for you. Our journal allows you to keep accurate nutritional information on the meals you eat. You can lookup foods in our online database of thousands of foods and add them to your library with the click of a button. You can also add your own custom foods to your food list. Each day will provide a complete nutritional break-down and a calorie balance sheet showing if you consumed or expended more energy. All calculations are automatic, You select what you ate from our list, we do the rest for you!
You can keep your most common foods in your custom food list, allowing for quick entry of your meals for the day.
You can print out pages on both the simple and detailed food journals for storage in a binder or as a resource for your physician or nutritionist. Our goal is to provide software that is easy enough to use, you want to apply it to your diet plan every day.
Both the simple and detailed food journals are included in your Fitness Journal subscription. You choose the journal that matches your goals.
" I'm using FitnessJournal.com to track my consumption and burning of calories. One of the advantages of FitnessJournal.com is that it continuously adjusts my daily caloric intake. As you loose weight, your body needs fewer calories to maintain itself. Thus, as you loose weight, it is constantly necessary to adjust the calories you eat in relationship to what you burn. The Basal Metabolic Rate (BMR) is the number of calories each day required to maintain your current weight, assuming no extra exercise. To loose weight, you must expend more calories than you intake through diet, exercise, or both. In the past, my focus has been on how many calories I can consume each day, and that's a moving target! Instead, I can calculate how many fewer calories a day I need to loose a certain number of pounds by a certain date: this is a fixed number. FitnessJournal.com constantly recalculates my daily calorie requirements for me, taking in consideration my current weight, body composition, exercise, and other expenditures. I no longer have to focus on the moving target. In other words, by recalculating the BMR, calorie consumption, and calorie expenditure each day, and balancing my caloric intake and expenditure according to my current BMR, I am making slow, contant changes to my lifestyle. There is no "end" to the diet: when I reach my target weight, I will already be in a pattern of eating and exercising to maintain that weight!"

- Jim Trumps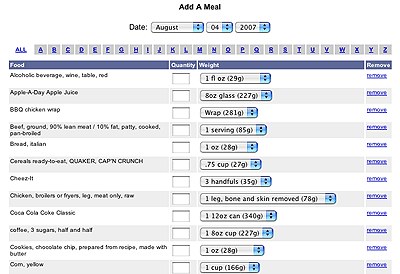 Why Keep A Food Journal?
The most important reason to keep a food journal is often overlooked. It is too easy to go through an entire day, mindlessly eating without giving a second thought to what you may be consuming. A fitness journal makes you stop, once a day, and pay attention to what you consume. The simple act of paying attention to your eating habits is often all that is needed to initiate change in your own eating habits.

The Fitness Journal food log allows you to track your meals and snacks, and rate each meal yourself. A little honesty goes a long way when it comes to diet, and most of us know when we are consuming junk, and when we are eating healthy.

Painless, Easy To Use
Food entry takes under a minute a day. You can review your past entries and edit your records at any time. Every day, when you login to enter your workout, take a minute and enter your breakfast, lunch, dinner and snacks. You may rate each meal on a scale of one to five. That is all you need to do, and you will start to see a change in your eating habits after just a few days of tracking your meals.