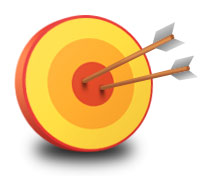 Tracking Your Goals at Fitness Journal
---
It doesnít matter where you have been, as long as you know where you are going.
Do you know where you want to be at this time next year? If you could do anything at all, what would you do? Where would you be? How would you FEEL?
We each have the ability to shape our own lives in any way we like. On a daily basis we turn our own thoughts into the reality that we live. You and only you can decide who you will be today, or tomorrow, or a week from now.
Goal setting is one of the most important, and often overlooked methods of getting from where you are now, to where you want to be in the future. Everyone can set goals. Few people take the time to plot a course from here to there.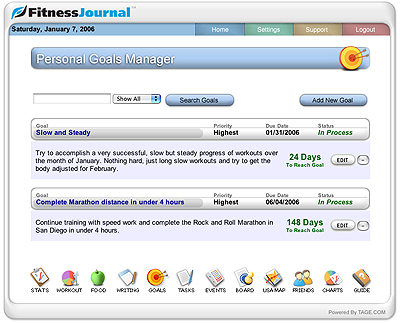 Setting goals alone will not make your dreams come true. It is equally important to put your goals in plain site each and every day. It takes time and patience to accept a goal as a way of life. Depending on the goal, it may take a few days, or a few weeks, or longer.
We encourage you to set short term, mid term and long term goals in your fitness journal. As you complete a goal, check it off the list and replace it with a new goal. Make goals a daily part of your life and you will be amazed at what you are able to accomplish, one step at a time. Fitness Journal incorporates your goals directly into your own home page, so you can review your most important thoughts every day.
There is no limit to the number of goals you can keep in your Fitness Journal. The more detailed the goal, the better your chances of success. You donít need to know HOW you are going to do something, you just need to feel absolutely that this is something you MUST do. The how will take care of itself.
You can become who you know you are. Take action. Make it real.