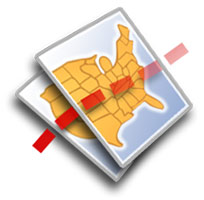 Track Your Progress Across America, Canada and Australia with Fitness Journal
---
Have you ever wondered just how far you have traveled during your workouts? The Map of United States, Map of Canada, and Map of Australia at Fitness Journal provide a fun way to track your cumulative efforts as you travel across each country.

Now any walking, running, hiking, biking or treadmill workout you log will display on our United States, Canada, and Australia maps so you can see how far you can travel over the long term.
You can share your progress with your friends by posting your own map of America on your website. As you pile on the miles (or kilometers), everyone will be able to see your progress. Place a bet with your training buddy to see who can make it across the country first!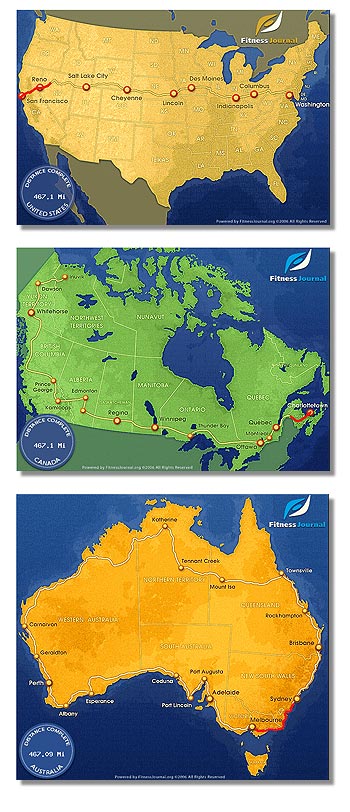 Your total miles will display in the corner of your map. Each and every workout you record in Fitness Journal will add to your progress across the country. Look for Australian, and European versions available soon!
"I love the walk across America chart. Gives me long term goals to look forward to. I know I will be a looooong time getting across America since I am only recording my miles from exercise, but I feel this strengthens my desire to get out and exercise."
- Marie H.
There is no additional work involved to track your progress. Record your workouts at Fitness Journal and your progress will automatically update on the map. Sign up for Fitness Journal today and start tracking your own trip across the country!
Map of Canada
Now you can take a virtual adventure starting in Prince Edward Island and ending all the way up in the Northwest Territories. This trek will take you a total of 9619 Kilometers (that is 5977 miles). You can keep track of both adventures at the same time without skipping a step!
Travel Around Australia
This virtual adventure starts in Melbourne Australia and travels in a counter clockwise direction all the way around the country and back to Melbourne! This adventure covers an amazing 12,023 Kilometers (7515 miles). As you enter your workouts, check back to this map to see how far you have traveled!