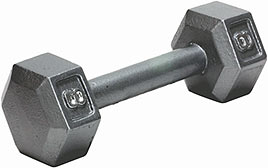 A Tour of Your Strength Training Journal
---
Planning your strength workout before you get to the gym is a critical step to successful training. Fitness journal helps you create an easy to follow printed plan that you can carry with you to the gym. You can easily plan and track your gym workouts to the minute, with no time lost and without missing a set!

To get started, click on preferences and decide which exercises you want to track. Everyone has a favorite list of exercises that they utilize on a regular basis. If you have a favorite exercise that you don't see listed, just send a request through our support section and we will add your exercise ASAP.

Next, get started planning your workout. This planner is designed to be simple and fast. Moving from the top the the bottom, find exercises you would like to do. Next decide how many sets you want to do for each exercise. Finally, enter in the number of reps you plan to do (and the amount of weight you plan to use if this is an option). Skip any exercises that you don't want to show up on your plan.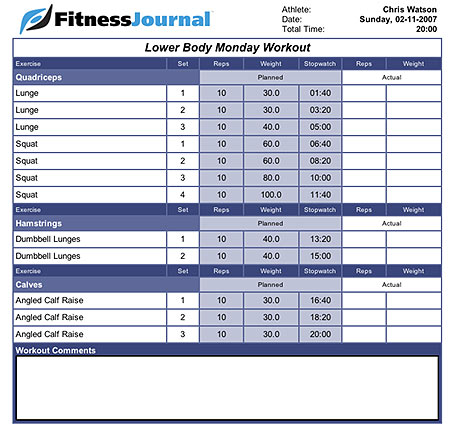 Once your plan is saved, print off your workout and take it with you to the gym. As you make your way through your workout, mark off your actual reps and weight for each set. Make personal notes in the comments section. A printed plan will keep you motivated and focused on the task at hand.
The stopwatch field makes it truly easy to keep on track and not get lost. Start your watch when you begin your workout. Each stopwatch listing by your set represents the total time that will have passed after doing the set, and resting. Once you see this number appear on your watch, start your next set! If you stay on course with the stopwatch, you will reach the conclusion of your workout at exactly the time listed for total time at the top of your printed plan.
Finally, log into FitnessJournal and report the results of your workout. Our system pre-populates all your fields so you only need to make changes based on your original plan. Hit save and your record will be reported to both your strength training journal, and your workout journal.
At any time, you can go back and review past workouts, or print new copies to take to the gym. Your fitness success starts with a plan, and creating a plan has never been so easy, or so much fun.