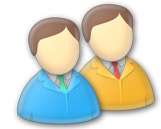 Keep Track of Your Buddies at Fitness Journal
---
One of the most popular sections of Fitness Journal is the Friends section. You can now train with friends or family members across town or on the other side of the country. You can share your own data so you can see who is working hard, and who is slacking. You can also send messages to your friends through the site.

Talk about motivation. You don't know motivation until you receive your first taunting email from your buddy that says "Only one hour this week. You must be slacking". Ouch! Game On!

Sharing your workout data will shine a whole new light on your health and fitness. Suddenly, working out can be a group activity.
There is also something incredibly rewarding about recording a solid workout week, and having your friends notice. "Hey, outstanding job this week, you rock". Such simple words, but how great it feels to know that someone else is watching.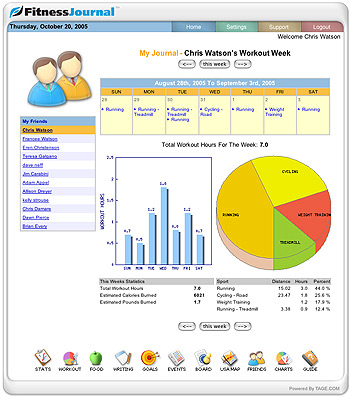 Fitness Journal offers a great way to keep track on your friends and training buddies. Now you can easily train with friends across the street, across the country, or across the pond!
By sharing workout data, you can keep up-to-date on what your training partner is up to, what sort of miles they are putting in, or if they are slacking! Using our instant site messaging system, you can send notes of encouragements or taunts of motivation (get moving slacker!) to your site friends.
If you workout with training partners on a local basis, you can easily communicate, coordinate workouts, and post workout results right on your fitness journal.
Invite your local friends to join the fitness journal family and you will receive 30 free days of service when they join!
Our Friends section offers two viewing options. The summary page allows you to see at a glance who is working out, the number of miles they are logging, the number of workout hours, calories burned, and the last time they logged into the site. The efforts of all your friends are tallied at the bottom of the screen so you can see what you are accomplishing as a group. This is a great feature for clubs or businesses that want to enhance their existing exercise program!
The weekly summary allows you to dig a little deeper into the training habits of a particular friend. No personal details are available, but you can see what activities your friends are logging, the number of miles and calories for a given week, and charts and graphs of their accomplishments.

Our online messaging service allows you to send quick notes and messages to your friends near and far. These messages are instantly available in your friends journals and email. Setup workouts, provide motivation, stay in contact!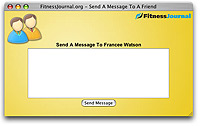 In order to use the friends section and messaging, you must elect to turn sharing on. You can turn sharing on or off at any time from within the friends utility. Sharing allows you to post your summary information for display, yet still retain a high level of personal privacy.
Its easy to make new friends at fitnessjournal.com, and we invite you to join right now and become part of the FitnessJournal family!